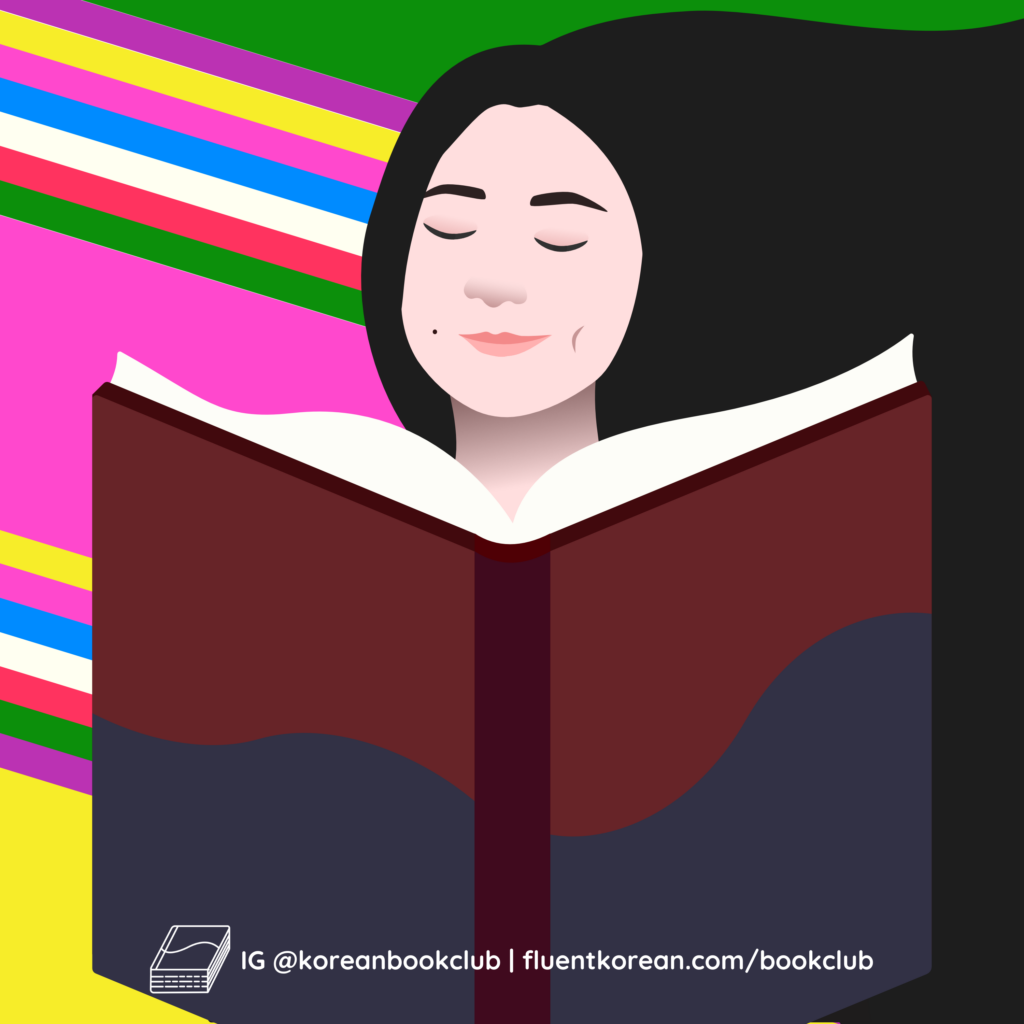 About the Event
Korean Book Club aims to be a space where:
people of Korean descent
members of the global Korean diaspora
Korean language and culture enthusiasts
can explore issues relating to Korean society, history, culture, language, diaspora, current events, etc. and connect with one another through the discussion of Korean books.
Due to limited spaces, at the moment, meetings are open to people who identify as Korean. However, this may change depending on the book being discussed.
Every month, we read a work of fiction or non-fiction with Korean narratives, characters, and/or authors.
Meeting Structure
Part One: Book Discussions

Part Two: Social Hour

How to Register
Prospective participants may register on the Fluent Korean EventBrite page.
To ensure that everyone has a chance to participate in discussions, spaces are limited. Please only register for this event if you are certain you can attend. Repeated absences will result in a (temporary) ban.
If registration is full, please join the waitlist.
If you have registered but cannot make the event, please let the organizer know as soon as possible to allow someone in the waitlist to participate.
Meeting Guidelines
Each participant should have read or be in the process of reading the chosen book. It's okay if you found it difficult to finish reading the selected book, but please note that there will definitely be spoilers in the discussion.

When speaking for the first time during the session, please state your name or make a brief introduction.

Please actively participate and contribute to the discussion.

It's okay to disagree, but please be respectful. Inappropriate behavior and/or language will result in removal from the meeting and where necessary, a ban from future events.
How to Access the Meeting
We will be using 8×8 Meet, an online video meeting platform for our book club discussion. A link will be provided to registered participants a day before the meeting.
As a guest, you can access 8×8 Meet via browser on your desktop computer or mobile device. On mobile, you can also download the 8×8 Meet app and join the meeting without signing in.
To join via browser:
As the time for the scheduled book club meeting approaches, open the email invite to view the meeting URL.
Click or tap the meeting URL.
Depending on whether you are joining on desktop or on mobile, your experience of joining the meeting may be different.
If you join via browser on your desktop computer:
You open a pre-meeting screen where you can enter your name and select your audio and video devices for the meeting.
When you are ready, click Join meeting.
If you join via browser on mobile:
You open a web page where you can choose to join the meeting using your already-installed app, install the app if you don't have it, or join via web.
To continue joining via browser on mobile:
Click Launch in web to open your mobile browser.
You open a pre-meeting screen where you can enter your name.
When you are ready, click Join meeting.
To join on your mobile app:
Click Join this meeting using the app and confirm.
The app opens and prompts you to join the meeting. Choose whether to join the meeting in full mode or audio-only ("low bandwidth") mode, and confirm to join.
Note: On iOS, if you join in full mode with video enabled, you can select between loudspeaker audio and the audio of a headset associated with your mobile device. To switch to ear-speaker audio, you must switch to audio-only mode under the More actions menu in the meeting interface.
To download the mobile app:
As an 8×8 Meet user: Click Download the app to open the 8×8 Meet download page in the App Store or Google Play Store. Once you download and log in to the app, join the meeting.
Once you join, if the meeting is passcode-protected, enter the passcode provided by the meeting organizer to access the meeting.
If there is no password provided, the organizer will screen the guests in the waiting room.
Things to Remember:
Recommended browsers: Bravo, Google Chrome, Microsoft Edge, Opera (please make sure the browsers are updated to the current version)
To guarantee your entry, please make sure your display name matches the name you used to sign up for the event.
Earphones are recommended to minimize noise.
Contact
Have questions? Please fill out the form below.